Dear prospective students,

Welcome to join us as a HUSTer!
Huazhong University of Science and Technology (HUST) is a top-ranking and national key public university directly under the administration of the Ministry of Education, P. R. China. Located in Wuhan, a higher education center in China, HUST is one of the best universities which attracts students and talents from home and abroad.
HUST covers an area of over 460 hectares and has been honored as the "University in the Forest" with a 72% greenery coverage. It offers its students first-class services, quality education and abundant library resources. At present there are around 55,000 students registered on campus, out of which 3,400 are international students from 155 countries.
Since 1952 when it was founded, HUST and its faculty have been devoted to the development of a dynamic and innovative comprehensive university. At present,HUST has 40 academic schools offering a variety of degree programs, including 99 undergraduate programs, 202 master programs and 189 doctoral programs. Among all these programs, 5 undergraduate programs, 81 master's programs and 87 doctoral programs can be instructed in English. Eighty-five percent of the international degree students are registered in the English-medium programs.
HUST plays a leading role in research with 50 national and provincial research bases and nearly 40 kinds of academic journals of domestic and international distribution.
The application for the HUST 2021 spring semester intake starts from November 15th, 2020. You are most welcome to choose us and start your dream from here.
Online application can be completed at http://admission.hust.edu.cn and you can find more information about international education of HUST at http://iso.hust.edu.cn/.
We are looking forward to meeting you at HUST in the spring of 2021.
Best regards,
Huazhong University of Science and Technology, Wuhan, China
Programs Available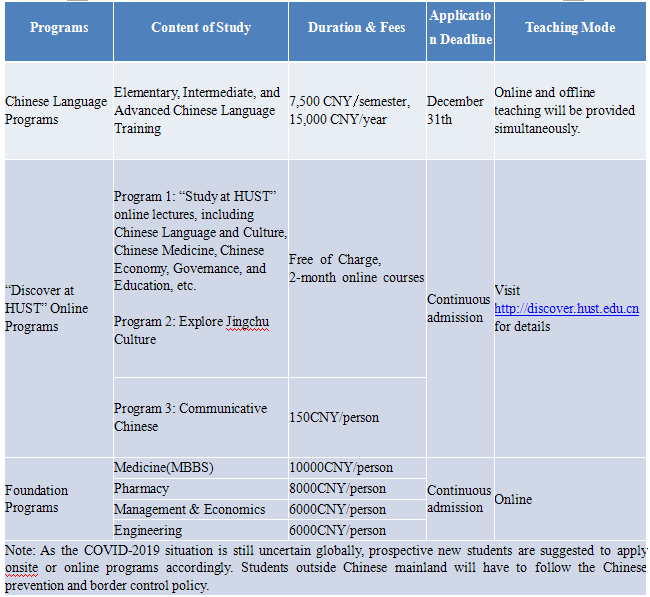 Eligibility

Application and Admission Procedures
Step 1.
Login the online application system at http://admission.hust.edu.cn/.
Step 2.
Choose a program, upload the required documents, complete your application and submit.
Step 3.
Finish the payment of application fee in due time.
Step 4.
Upon receiving the payment, the application will be reviewed by the HUST International Admission Office.
Step 5.
The university will issue the Admission Notice and Visa Application Form.
Notes:
l A nomination letter for exchange students from partner universities will be required.
l The documents uploaded should be clear, complete, true and valid. Incomplete or false applications will be rejected.  
l Please check the status of your admission, and the admission package tracking number through the application system rather than emails or phone calls.
Application Fee
l Applicants shall pay the application fee (non-refundable) of 600 CNY/100 USD in 15 days upon completing online application successfully by:
√ Chinese bank card (China UnionPay)
√ Alipay
√ Wechat Pay
√ International bank card (VISA/Master).
Documents Needed for Application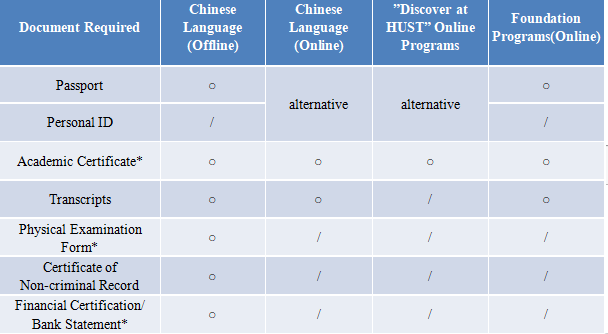 The application fee for exchange students nominated by partner universities will be waived.
The application fee for "Discover at HUST" Online Programs will be waived.
Notes:
* Academic Certificate:
An official certificate of your highest education; or the official document of enrollment issued by the current school. Academic document issued in the third language should be notarized in Chinese or English editions.
* Physical Examination Form:
Please click to download. Those who are studying or working in China could upload the Health Certificate or Residence Permit instead.
* Financial Certification/Bank statement:
5,000 USD or above. Not required for the applicants from partner universities nor "Discover at
HUST" online programs' applicants.
Contacts:
International Admission & Cooperation Office
School of International Education
Huazhong University of Science and Technology
Add: 1037 Luoyu Road, Wuhan, Hubei 430074, China
Tel: 0086-27-87542457
Fax: 0086-27-87792118
Email: apply@hust.edu.cn
Online Application: http://admission.hust.edu.cn/
Discover at HUST Online Program: http://www.hustelearning.com/
Policy and Information: http://iso.hust.edu.cn
Huazhong University of Science and Technology:http://english.hust.edu.cn/
Life in Wuhan: http://english.wh.gov.cn/